Rumah Rasa's halal Ramadan Buffet serves a wide array of Indonesian food and is next to a Mosque!
Rumah Rasa offers Indonesian food that you may not even know of!
Rumah Rasa – Halal Buffet Restaurant
Recommended for people who are looking for a halal buffet that offers more traditional Malay options rather than fusion ones.
All the food in the restaurant are inspired by the best of what the Malay archipelago has to offer, from Indonesia, Malaysia to Singapore.
Rumah Rasa is Bay Hotel's in-house Pan-Indonesian restaurant that is famous for their tahu telur and buffet spread. (We'll let you know what else you can try at the end of the article) Rumi and her family got to break their fast at the restaurant last Sunday and wants to share her experience with you!
Read on to spot the 10% special promo code you can use for your next buffet trip to Rumah Rasa.
Here are some of the highlights I'm going to cover
Accessible Location

The Halal Buffet Spread

Best Dishes (Buffet)

Praying Area- There's Masjid Temenggong just beside the Hotel!

Ala Carte Dishes

Pricing & Other Details
---
Easy Location
Right off the bat, the location of the restaurant is convenient for those taking public transport – both bus and train. (Our family car was at the car workshop for the weekend so we had to take public transport. Hehe.)
For drivers: You get a complimentary parking ticket too!
Bay Hotel is right opposite the Harbourfront MRT exit and Vivocity so it was easy to spot and walk to the hotel.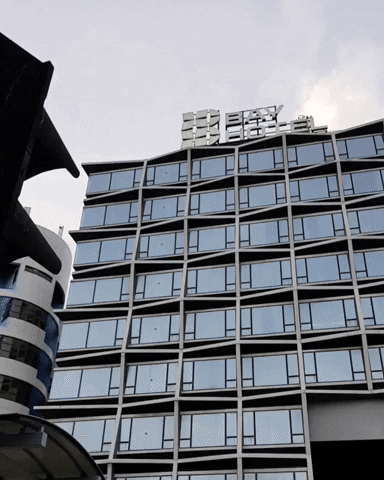 The entrance itself (on the inside of the hotel) has a minimalist look so it might not stand out right away. However, they do have a large poster plastered on a wall outside the hotel facing the road that passers-by and customers can't miss. Look out for the poster down below!
The restaurant itself is dimly-lit with warm lights to create a cosy atmosphere for the families dining there, with the buffet spread being front and center of the space. There was also plenty of space near the reception where children were playing with each other while still staying within their parents' view. #familyfriendly
---
The Spread
Let me introduce to you the 9 different stations available to you at this Malay food-centric halal buffet.
1. Chick Kut Teh Station
The very first item at the table was their signature Chick Kut Teh. I think quite a number of people peered into the pot but ended up not getting it. The label itself does not do the broth justice because not a lot of non-Chinese customers knew what Chick Kut Teh is.
If you're new to the world of Bak Kut Teh, it is originally a pork rib broth soup that is popular amongst the Chinese in Singapore and Malaysia. The halal version, the Chick Kut Teh, uses chicken bones instead. Rumah Rasa is one of the few halal buffet restaurants to offer this dish.
It is basically a sort of chicken soup with traditional Chinese herbs. As you can see, it looks like plain brown soup in the pot. Don't judge a dish by its looks! This broth actually made my Best Dish list (more on the taste in the next section).
2. Gado – Gado Station
I've never actually seen a gado-gado station this elaborate at a buffet before so it definitely captured my attention. The right side is furnished with the raw ingredients like fruits and vegetables while the left side had the cooked ingredients (seen in photo down below). The raw ingredients side also doubled as ingredients for a common salad but I liked that there was emping belinjo (the cracker-looking thing) nearby so it did not look like a full-on salad bar. My parents are a fan of this station and they would recommend anyone with the appreciation of gado-gado to try this out.
What's available: Tempeh, fried tofu, boiled eggs, fishcake, boiled greenbeans and diced lontong. The curry-looking sauce on the left is the gado-gado sauce.
3. Lauk – Pauk (7 Main Dishes)
Now, to the most important part everyone wants to know.
"What are the main dishes? Is going to this buffet worth it? Or can I just cook the dishes myself?"
Not really, unless you're someone who has crayfish and duck meat available in your freezer, you probably won't be making some of these dishes at your own time. Speaking of crayfish, it's the first dish that got me excited when I got there.
My sister and I love eating crayfish. So, this was a treat. (We ate 4 crayfishes each.) The crabmeat chili gravy was also a good pairing, as long as you eat it while it's warm. The crayfish meat hardens up a little once it's cooled down but did it bother me? No. Just let me have my crayfish.
Pro-tip: This ran out first, followed by the rice. If you're cray for crayfish, you might want to get a few on your plate in case it runs out by the time you come back for refills.
My mum cooks dishes with siakap quite often so we did not really rush for this. However, the other customers liked this a lot probably because the fish was so fresh, the peeling process was most satisfying.
If you're not adventurous and need some time to get used to the buffet's more unusual offerings, you can safely try Rawan Sapi. It's similar to black pepper beef but less of a spicy aftertaste.
My sister loves Cumi-Cumi Hitam because she enjoys the chewiness of the squid. The colour of the dish may be off-putting for some. However, once you've got a taste for this,  you'll be attracted to ink-blackened food. I also liked how the squid was cut into bite-sized pieces so I didn't have to cut it up further.
Honestly, I thought this was beef gravy until I read the label. The jackfruit pieces are no longer its yellow self and look more like medium-rare beef bits. If you're not a big fan of jackfruit or coconut-milk dishes, you should stay away from this. That being said, you might want to try this dish at least once in your life, just to test your limits and ponder about being vegetarian. Jackfruit in this dish is sweet and creamy but with a mild fruity aftertaste, in case you were wondering.
This reminds me of Ayam Masak Merah but not quite since its gravy was less concentrated. You can give this a miss if you're used to having something similar at your family gatherings or local makcik canteen stalls. I think this was more for the tourists to experience, which is a cool consideration.
This is an interesting dish because…green chili and duck! I'd say the novelty value did help boost the experience. It's not hot and spicy for a chili dish. Its taste profile was more of tangy and sweet, with tender marinated braised duck. Another thing to take note, the meatier regions of the duck are more flavourful because they naturally absorb the gravy's essence better.
Last but not least, the rice. (This ran out right after the crayfish, of course.) Don't pile up on rice so that you don't get full before trying the whole selection.
4. Kerabu Station
The kerabu is refreshing and helps complement the main dishes by varying the texture and taste. The trick is to pair the right kerabu with the right dish. For example, soft meat dishes with crunchy kerabu (achar and mangga) and vegetable dishes (gudeg/jackfruit) with meaty kerabu (squid). You can of course eat it any way you prefer but just know that over-mixing might cause them to cancel out each other's flavours.
5. Bubur Station
I am thankful for the bubur at this halal buffet. Sometimes, all you want to do when breaking fast is eat something you're familiar with rather than ending up with nothing to eat when it's Maghrib and you haven't decided on what to eat yet. If you're not a bubur person, you might want to come early so that you can settle down with something you like before Maghrib comes round.
6.Ulam & Condiments Station
My mum loved this station because she could make so many configurations of ulam…even though she ended up going with one combo and got full afterwards. It's the thought and happiness it brings that counts,  I guess! Look closely and you'll see a variety of eggs in the baskets, like century egg and sambal oval quail egg. Also, 5 condiments for us to choose from! We took all five and taste-tested it with the emping belinjo (crackers). I'm not into it but it was fun to try new condiments and sauces.
Also, thanks for all the labels, Rumah Rasa! Would have been so lost without them.
7. Assorted Kueh & Desserts
Their dessert range was decent (with one memorable exception).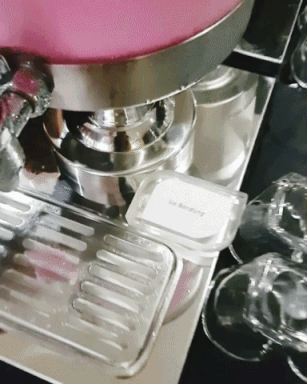 They also had fruits – plum, jambu air, lychee, longan, starfruits. Pretty cool mix but it was not cut into bite-sized pieces so we left it alone. It might not be special to us but there were tourists at the other tables who enjoyed seeing the fruit as a whole before eating them.
8. Asam Laksa Station
The asam laksa and roti john stations are only available from Sun – Thurs this Ramadhan. Realistically, I would not have tried this laksa because it takes a bit of time and effort to have done. I prefer having something prepared for me to eat already, especially if I'm fasting. Nonetheless, this is a good alternative if you're skipping rice.
9. Roti John Station
Sitting next to the laksa, its location is not very obvious (at the windows facing the foyer, by the way) but you can probably smell the asam laksa from afar which would help guide you there.
(scroll down to continue reading)
---
The FRIENDS Pass is the only privilege pass  which gets you discounts at over 160 halal places in Singapore!
If you appreciate this article, support us by getting your own FRIENDS Pass. Learn more about where you can get exclusive discounts here.
---
Ala Carte Dishes
My family wanted to try their recommended ala carte dishes too – Sup Buntut (Oxtail Soup) and Esteler (Indonesian fruit cocktail).
Not to be confused with its cousi Chendol, Esteler is actually a non-gula melaka dessert. Instead, it  has avocado, coconut meat, cincau, jackfruit and other fruits are served with coconut milk mixed with sweetened condensed milk. The coconut milk gravy was sweet but the fruits were mild so it helped balance the sweetness level. For my mum who preferred less sweet, she would have more of the fruits than the coconut gravy in a spoonful. As for my sis, she preferred more sweet so she had more gravy than the fruits.
All-Stars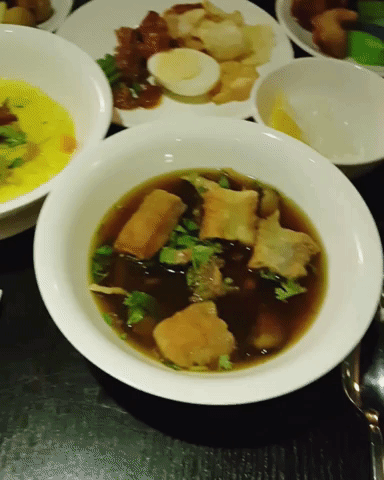 Remember this? It's the the Chick Kut Teh again! #underdog
Seriously, where have I been all this time? The broth was so light yet flavourful, with the char kuey making it feel more filling as a dish. Ramadhan has got me so thirsty that this was the perfect way to break my fast. I hope Chick Kut Teh catches on so that it'll be widely available all over Singapore! For now, I'll have to learn how to make my own since I've got no plans to break my wallet coming to Rumah Rasa for my cravings.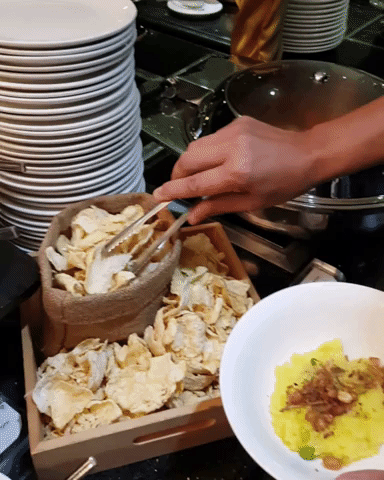 Somehow the emping belinjo helped complete every main dish available. Its crunchiness gives the rice dishes more texture and was also a good base to test out the condiments at the ulam station.  Also, I didn't realise this before but the bitter profile of the emping helps to cleanse your palate too!
This is a great show cap even though it was least expected to be the star of the show. After Ishak, the servers brought out the desserts and we were expecting typical Malay puddings/custards but NO! This unusual pudding  with smashed banana bits really made me feel all kinds of happy emotions because it was just such a new sensation to my tongue. While the sweet gula melaka flavour was pretty common, the pudding-banana-sago texture combo was not. Each element melted in my mouth but at different timings so I was taken aback. The whole mouth orchestra lasted five minutes tops because of the small serving size (probably because it was very sweet). Even then, it left a truly lasting impression.
Note to self: Favourite this dessert.
For reading this far, you get TTEENN PERRCCENTT (yes, we're spelling it this way so people can't search it. hehe.) off your buffet bill. Even if you don't have a FRIENDS PASS. Quote 'halalfoodhunt' when booking in advanced to cash it in. Thank you. You may now continue (You can find the full price of this buffet at the end of this article).
This is a shout out to the unusually-shaped but practical spoons at Rumah Rasa. Dear spoons, you were lovely to cut with and shovel food into my mouth. You will be missed.
I would also like to raise the fact that none of the dishes were too spicy so it was good for our empty tummies. Having spicy food after fasting for a whole day spells gastric woes for some people. Thank you, Rumah Rasa, for taking this into account!

Prayer Break at Masjid Temenggong Daeng Ibrahim
If you're breaking fast at Rumah Rasa, you don't have to worry about finding prayer space. Technically, it's not even a musollah since it's an actual mosque. My family took turns to leave the table to pray Maghrib (which also serves as a rest period for your tummy before you fill up again with buffet food!). You can see how close the hotel is to Masjid Temenggong Daeng Ibrahim below.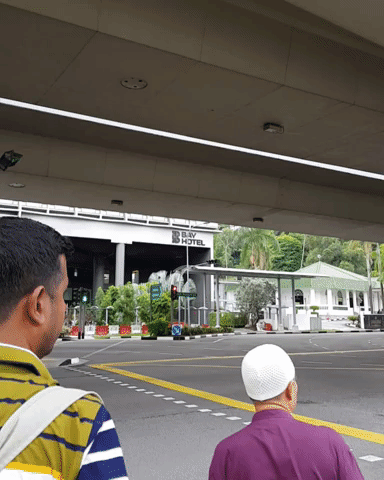 I have to admit, the way to the female ablution area and prayer hall was a bit confusing.
How to get to the female ablution area:
Enter the mosque and climb uphill until you see the small concrete "hut" that is separate from the main prayer building.
There will be an ablution area for men at the side of the small "hut". You have to go pass that and enter the back of the "hut".
If you see a brown bench and shoe rack, you're at the right place. There will be signs there to say it is the female toilet and ablution area.
How to get to the female prayer hall:
The female section is behind the brown partitions of the prayer hall.
From the ablution area, you have to go down a short flight of stairs to get to the prayer hall corridor.
Walk at the corridor to the back of the main prayer hall to find the doors leading to the female prayer hall.
Final Pointers
My family had a good time mostly because my parents ended up educating my sister and I about some of the Malay food that we were not used to (e.g. Bebek Cabai, Gudeg, Kerabu Suhun, Cekodok). I would say that the buffet itself was a conversation starter which helps facilitate family bonding. If you are jio-ing older relatives who prefer traditional Malay food, you should consider this buffet. Best of all, some of the items are so unique to some parts of Indonesia that you probably won't be able to taste elsewhere in Singapore.
Even if the food style may not be to my liking (I'm a millennial after all), I appreciate the experience of being able to try some of the Malay food I never knew existed, all in one sitting.
Pro-tip:
Bring breath mints if you're not heading straight home after the buffet. Especially for the jackfruit and petai-lovers.
Know the exact time for Maghrib if you're fasting. It is not clear whether there was azan playing in the restaurant (if it was, it was too soft). My dad's azan app started playing, which alerted everyone that it was Maghrib. I think we were also anticipating the restaurant to play the azan at the same time but I didn't hear it. Confused Muslim customers nearby looked at each other, saw us eat, then started eating themselves.
Nenek can probably cook better but for the times when she can no longer do so, this is your next best option. Enjoy!
You can even stay Rumah Rasa overnight, sahur there, break your fast there, do terawih at Masjid Temenggong because…Rumah Rasa servs breakfast from 05:00AM daily during the fasting period and also has a  takeaway set for 2 and 4 at $40 nett and $80 nett respectively.
That's it for my review! My mum wants to say thank you Rumah Rasa, Halalfoodhunt and all of you readers!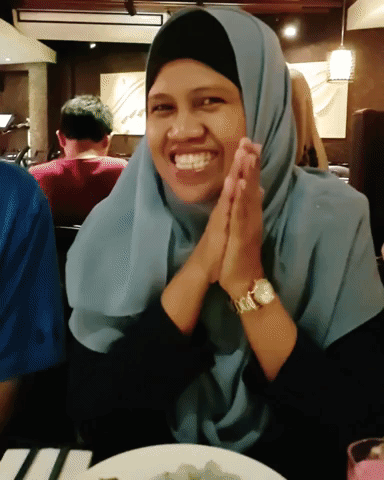 ---
Promotion Period: Rumah Rasa Ramadhan Buffet
16 May 2018 to 14 June 2018 (2 weeks left!)
Price
Dinner Buffet with Live Station – Sunday to Thursday
(6.30PM to 9.30PM)
$35++ (Adult); $20++ (Child – 6 to 12 y/o)
Dinner Buffet with Live BBQ – Friday, Saturday, Eve of Public Holidays
(6.30PM to 9.30PM)
$42++ (Adult); $25++ (Child – 6 to 12 y/o)
Location
Bay Hotel, 50 Telok Blangah Rd, Singapore 098828
Special Bonus Menu
(Sun – Thurs) Live stations serving Laksa & Roti John (What Rumi's family had)
(Fri, Sat, Eve of Public Holiday) Live BBQ Station ft. marinated sotong, fresh tiger prawns, kembong fish etc.
Click here for their full menu pdf
Rumah Rasa
Halal Status: Halal-Certified 
Area: Harbourfront/Telok Belangah, for most updated address and opening hours click here. 

FRIENDS PASS Rewards: 
Rumah Rasa offers 10% discount for FRIENDS.
Not valid on eve of PH, PH and other special occasions. 
Cannot be used with other discounts, promotions and/or vouchers. 
Valid for dine-in only.
---
Even if this particular halal buffet may not be your cup of tea, you can check out other items they serve that were not mentioned in this article.
If you're up for other items on their ala carte menu, click here to check out the best 5 dishes they serve.
Note: We get it…Halal buffets can get a bit repetitive, but not Rumah Rasa! They've got buffet themes that can make mind-blow even the Malay customers who are so used to traditional Malay food. Last December, they had the Feast of Fire and Ice. Click here to read about the Game of Thrones-inspired buffet theme are Rumah Rasa.
---
The FRIENDS Pass is the only privilege pass  which gets you discounts at over 160 halal places in Singapore!
If you appreciate this article, support us by getting your own FRIENDS Pass. Learn more about where you can get exclusive discounts here.